1993
January 20, 1993 At his first inaugural, the line that echoes from Clinton's address is the one that most reflects his natural optimism: "There is nothing wrong with America that can't be cured by what is right with America."
July 20, 1993 Clinton and the Arkansans he brought with him to Washington are rocked by the suicide of White House deputy counsel Vincent Foster Jr. In Little Rock, he was a former partner with First Lady Hillary Rodham Clinton, whose pet name for him was Vincenzo Fosterini. Foster leaves a torn-up note that says, "I was not meant for the job or the spotlight of public life in Washington. Here ruining people is considered sport."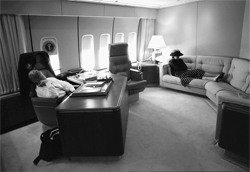 August 6, 1993 Clinton's first budget passes, a measure that contains more deficit reduction and less spending on domestic "investments" than Clinton once hoped. Widespread predictions from Republicans that Clinton's plan is a "one-way ticket to recession" are proven wrong by the economic growth and surpluses that blossomed later in the decade. "He was glad to have won," recalls economic advisor Gene Sperling, "but this was not how he wanted to govern. He did not like the fact that this had passed with only Democrats, and he worried that the whole process had defined him in a way that was more partisan than he really was."
December 1993-January 1994 The Clintons make two pivotal decisions that echoed for the rest of the presidency. The first is to deny news organizations' requests for a full release of the Clintons's private records about questions stemming from their relationship with Arkansas businessman James McDougal, developer of the failed Whitewater project. The Clintons believe granting the requests will only spur more questions. But their decision causes suspicions to grow, so that by January 1994 even Democrats are calling for the appointment of a special prosecutor. Reluctantly, Clinton asks Attorney General Janet Reno to appoint a prosecutor--hardly imagining that the investigation will still be churning when he leaves office seven years later.
1994
January 25, 1994 Clinton promotes his health care plan at the annual State of the Union address. In a bold line that he later regretted, the president warned Congress that he was not interested in half-measures or incremental reform: "If you send me legislation that does not guarantee every American private health insurance that can never be taken away, you will force me to take this pen, veto the legislation, and we'll come right back here and start all over again."
April 1994 Ethnic warfare erupts in the African nation of Rwanda. With little or no debate, the Clinton administration and other Western governments do not intervene, a decision Clinton later says was the one he regretted most as president. Over the next couple months, an estimated 800,000 people will lose their lives in the genocide.
May 6, 1994 Paula Corbin Jones files a civil lawsuit accusing President Clinton of sexual harassing her three years earlier, during an encounter at a Little Rock hotel. Clinton denies her claim that he had dropped his trousers and lewdly propositioned her.
November 8, 1994 In a political earthquake, Newt Gingrich and his "Republican Revolutionaries" surge to power in Congress. Democrats are hurt by a powerful anti-Clinton mood, following the failure of his health care reform, and a general sense that the young president was not up to his job.
1995
January 1995 Clinton's fight for rehabilitation is already underway, under the still-secret guidance of political consultant Dick Morris, a brilliant strategist whose methods left many on the Clinton White House uneasy. "He understands the underside," Hillary Clinton tells White House aide Harold Ickes. Ickes shoots back, "He is the underside."
November 13, 1995 In a year of maneuvering, Clinton has embraced the Republican goal of a balanced budget, but refuses to accept the GOP's specific budget cuts. Gingrich forces a confrontation, and the federal government shuts down. Public opinion sides emphatically with Clinton. But during the tension of the shutdown, Clinton's eye roams to a White House intern named Monica S. Lewinsky.
November 20, 1995 After three weeks of chaotic negotiations held at an Air Force base in Dayton, Ohio, a settlement is reached ending four years of deadly ethnic warfare in Bosnia. The Clinton-sponsored deal is politically risky: It requires 20,000 U.S. troops to embark overseas in the midst of the president's re-election campaign. But the Bosnia breakthrough vastly enhances Clinton's self-confidence as a foreign policy president.
1996
January 23, 1996 At the State of the Union address, Clinton says: "The era of big government is over. But we can't go back to the time when our citizens were left to fend for themselves." Voters approve; for the first time, he moves into the lead in polls about his re-election, an advantage he never surrenders in the year ahead.
July 31, 1996 After weeks of private deliberation, and a dramatic three-hour meeting with his cabinet, Clinton decides to sign a Republican version of welfare reform. Clinton acknowledges that he does not like several of its provisions, especially those denying aid to legal immigrants. Liberal Democrats are crushed. Clinton tells an aide, "This is a decent bill wrapped in a sack of shit."
November 5, 1996 Clinton wins a second term, crushing Republican nominee Robert J. Dole in the electoral college. But the incumbent's 49 percent vote total is just shy of the majority validation he was desperately hoping for. Even amid victory, Clinton is facing questions about his aggressive pursuit of campaign funds--including from shady Asian sources--during the re-election effort.
1997
May 27, 1997 The Supreme Court unanimously rejects Clinton's argument that a sitting president should be protected from having to defend himself from civil lawsuits until after his presidency is over. The Paula Jones sexual harassment case is going forward. Despite urgings from some advisers over the next several months that he settle the case, Clinton never does.
July 8, 1997 At a summit in Madrid, the NATO alliance agrees to expand its Cold War fraternity to include three new members from Eastern Europe: the Czech Republic, Hungary, and Poland. The move marks a major advance for a top Clinton foreign policy priority.
August 5, 1997 In a rare moment of bipartisanship, Clinton and congressional Republicans strike agreement on a balanced budget accord.
1998
January 17, 1998 On a Saturday morning, Clinton gives a deposition in the Paula Jones lawsuit. To his horror, her lawyers press him about his relationship with Lewinsky--questions that make plain they know many details. Under oath, he denies that they had a sexual relationship, and says he cannot recall ever being alone with her. The next day, the Drudge Report describes internal discussions at Newsweek over whether to report stories about an alleged presidential relationship with an intern.
January 20, 1998 The story of the alleged relationship--and the news that independent counsel Kenneth Starr is investigating whether Clinton obstructed justice and lied under oath to cover up the affair--breaks in The Washington Post. A few days later, Clinton wags his finger and declares, "I did not have sexual relations with that woman, Ms. Lewinsky."
March 23, 1998 On an African tour, Clinton addresses the largest crowd ever to greet him as president--several hundred thousand people on a sweltering public square in Accra, Ghana.
August 17, 1998 Clinton appears before Starr's grand jury and admits that he had an "inappropriate" relationship with Lewinsky. That night, in a minimally repentant speech to the nation, he calls for an end to "prying into private lives."
August 20, 1998 Clinton orders cruise missile strikes in Afghanistan aimed at killing terrorist Osama bin Laden in retaliation for embassy bombings in Africa. This is the first of several failed efforts toeliminate the terrorist during Clinton's final years in office.
1999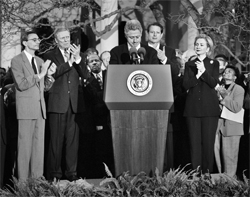 December 19, 1999 Clinton is impeached by the House of Representatives on a largely party-line vote. Republicans act despite considerable losses during mid-term elections the month before, which most commentators expected would cool the GOP's ardor for running Clinton out of office. At a rally on the White House South Lawn, the president vows to stay in his job "until the last hour of the last day of my term."
February 12, 1999 Clinton is easily acquitted by the Senate in his impeachment trial. Upstairs at the White House that afternoon, First Lady Hillary Rodham Clinton meets with adviser Harold Ickes about running for Senate from New York.
March 24, 1999 NATO forces begin a furious air assault against Serbia to repel aggression against ethnic Albanians in the previously obscure province of Kosovo. In the opening weeks of the air campaign, NATO's effort seems to be failing, and Clinton is under pressure from British Prime Minister Tony Blair and others to prepare for a ground invasion. In early June, however, Serbian strongman Slobodan Milosevic capitulates.
2000
February 6, 2000 Hillary Rodham Clinton announces her U.S. Senate campaign.
April 29, 2000 Clinton brings down the house at the annual White House Correspondents Association, playing a "Home Alone" video in which a lame duck president is reduced to packing Hillary Clinton's lunch, washing his limousine, and bicycling through the Old Executive Office Building.
November 7, 2000 Hillary Clinton wins her Senate race in New York, a huge satisfaction to Clinton that trumps his frustration over Al Gore's refusal to run his presidential campaign on the Clinton record. The next month, after a Supreme Court ruling puts Florida in George W. Bush's column and gives him the presidency, Clinton and Gore have a sharply worded showdown in the Oval Office in which they blame each other for Gore's defeat.
2001
January 20, 2001 After one last all-nighter at the White House, Clinton leaves for a new life as ex-president. Of his eight years in office, he says, "I've loved it. Even the bad days were good."