The Swamp
The Everglades, Florida, and the Politics of Paradise
By Michael Grunwald
Simon and Schuster
Buy the book at Amazon.
Awarded the Gold Medal in Non-Fiction, in the 2006 Florida Book of the Year awards.
Named Editor's Choice by the New York Times Sunday Book Review and "Best Local History" by Miami New Times
"Magnificent"-- Palm Beach Post
"Mr. Grunwald, a terrific writer, moves along at a cracking pace."
--The New York Times
"A brilliant work of research and reportage" --The Washington Post
"Always entertaining."
--NY Times Book Review
"A superb narrative"
--South Florida Sun-Sentinel
"A superbly lucid and masterful stylist...blending exhaustive research and superlative prose into a book as valuable as a week in Fort Lauderdale at one-hundredth the price ." --Boston Globe
"A tremendous book." --The New Republic
"Enthralling." --Publishers Weekly
Praise for The Swamp
The New York Times: "Mr. Grunwald, a terrific writer, moves along at a cracking pace. The Swamp abounds in rascals, visionaries and visionary rascals. One of Mr. Grunwald's virtues is his clear-eyed refusal to impose present-day standards on past behavior. The dredges dig, the railroad advances, the politicians scheme and the dreamers paint their Technicolor fantasies. The Everglades, Mr. Grunwald writes, was always too subtle to command love and respect, "less ooh or aah than hmm." In his hands, the ooh and aah come to life." --March 8, 2006
The Washington Post: "In recent years, writers have devoted a lot of ink to the tortured history of south Florida's Everglades. But no one has nailed that story as effectively, as hauntingly and as dramatically as Michael Grunwald does in The Swamp , a brilliant work of research and reportage about the evolution of a reviled bog into America's -- if not the world's -- most valuable wetland." --March 30, 2006
New York Times Sunday Book Review: "Michael Grunwald, a talented Washington Post reporter, understands that South Florida is South Florida because so much miscreancy has gone into the making of it. His first book, "The Swamp," a biting, exhaustively reported work of environmental history, tracks the story of the central "obstacle" in the development and settlement of the peninsula, namely, its water. The Everglades were hostile to settlement. For that effrontery, the United States decided to wring this wilderness dry.
Grunwald's point is that this battle has never really stopped. "The Swamp" is a sort of tapestry, or a really long W.P.A. mural, with a cast of characters whose extreme labors yield a grand, violent, picaresque history of the southern tier of this state. This book serves up 500 years of bloody, mostly foolish, rarely noble, but always entertaining human antics executed by legions of capable (but really nutty) conquistadors, generals, engineers, mobsters, politicians and rich-boy developers as they hacked at each other and the swamp." --April 8, 2006
Carl Hiassen: "THE SWAMP is the best thing I've ever read about the Everglades...The story of what's happened to this haunted and magical wilderness has the epic ingredients of a great novel—greed, betrayal, carnage and valor—and Michael Grunwald has beautifully captured it all for history."
Sarasota Herald-Tribune: "A classic tale of man vs. nature...The Swamp ought to be required
reading."
South Florida History: "The definitive work on the Everglades ecosystem...This book is a must-read for anyone interested in the past—as well as the future—of South Florida."
Florida Historical Quarterly: "The greatest achievement of this book is its readability and accessibility to a general audience...Engaging and compelling...THE SWAMP is history itself."
Huntington (WV) News: "History and ecology was never so much fun to read! THE SWAMP is a lively, entertaining and thoroughly researched book."
The Rye Record (Rye, NY): "A fascinating story of dreamers and rascals, ignorance, greed and possible redemption…Grunwald is a terrific storyteller. The Swamp is full of characters as exotic as the wildlife."
The Explorers Journal: "This important book is an exhaustively researched history of the Everglades and an eye-opening expose of the myriad ways that greed and ambition have shaped the development of the Sunshine State...Author Michael Grunwald does a masterful job...Powerful books like The Swamp can make a difference."
Louisville Observer: "This history of the Sunshine State is lively and surprising from beginning to end...Wonderfully odd and timely."

The Valley Reporter (Joplin, MO): "As informative as it is entertaining, written with a flair for imagery and characterization... One of the best non-fiction books of the year. Don't pass it by."
Prosper Magazine (Sacramento, CA): "Captivating...Grunwald provides a thought-provoking read that leaves the reader appreciating the national treasure that is the Everglades."
Palm Beach Post: "Magnificent. Michael Grunwald, a reporter for The Washington Post , accomplished in two years what the rest of us scribblers have been dithering over for a decade or more. His definitive history reads as quickly as a good magazine article. Best of all, The Swamp is up-to-the-minute...Among the book's strengths are Grunwald's pen-portraits of the characters whose careers intertwined with the Everglades, a kind of Madame Tussaud's waxworks of rogues and saints."--July 30, 2006
Forum: "Grunwald's book is hard-boiled history at its best: Truth that reads with the thrill of fiction."--Summer 2006
Earthjustice: "Grunwald deftly combines historic context with the captivating story of the characters that have come to define the Sunshine State."--Spring 2006
Everglade Kite: "An absolute must read for anyone who lives in, visits, has ever been to, or knows anyone who has been to, our state."--May 2006
American Heritage: "Highly entertaining...Lively history...Grunwald loads his book with colorful characters who tried to conquer the swamp, including carpetbaggers, con artists, and politicians eager to make a quick buck."—March 18, 2006
The New Republic: "The Swamp is a tremendous book--impressive in scope, well researched and well written, rich in history yet urgently relevant to current events, altogether deserving of laurels."--March 13, 2006
South Florida Sun-Sentinel: "The Swamp is a superb narrative of human attempts to master the southern Florida wilderness...Among Grunwald's gifts is a knack for capturing people in a few words...But what stands out in his portraits of the schemers, dreamers and hustlers who created modern South Florida is his fairness, his refusal to yield to the temptation to condemn them by the standards of today...Grunwald writes with verve and wit."--April 2, 2006
Boston Globe: "In Genesis, man receives dominion over the earth and all upon it, but in ' The Swamp , Washington Post environmental reporter Michael Grunwald describes in fascinating detail how our abuse of this custody batters nature almost to death...A superbly lucid and masterful stylist...The exploitation and greed documented in his important saga will incite anger, but Grunwald remains profoundly engaged, never enraged, blending exhaustive research and superlative prose into a book as valuable as a week in Fort Lauderdale, at one-hundredth the price." --March 5, 2006
Miami Herald: "A tale of man's naive conquest of nature and the unprecedented effort to reverse some of the damage, The Swamp arrives at a fascinating point in Florida's history. . . . How did we get to this point? Michael Grunwald, an award-winning national reporter for The Washington Post , provides a lot of the context in this ambitious, deeply researched blend of environmental, social and political history of the Manifest Destiny forces that built Florida." --March 5, 2006
The Tampa Tribune: "Richly detailed and enjoyable."
Grist.org: "Marvelous pacing and style. . . . He avoids judging figures from the past on modern terms in favor of interweaving the ecological, social, and political histories of the Everglades into a cracking good yarn."
Seattle Times: "In this page-turner, Washington Post reporter Michael Grunwald...spins a vast and profoundly enlightening history of the region, showing how the very forces that ruined the Everglades are now being employed to resurrect its grandeur."
Huntington News: "History and ecology was never so much fun to read...A prediction: "The Swamp" will be on everybody's short list for the National Book Award and the Pulitzer Prize. If I were voting, I'd give it both honors!"
Orlando Leisure: "Fascinating...The Swamp is a piece of expert journalism masterfully told, a dramatic story of remarkable people and intense politics."
Progreso Weekly: "Excellent...Grunwald gets the politics right...This book is worth reading by anyone who cares about South Florida, or is interested in its at-times-weird politics, or is concerned about our environment."
The Pacific Northwest Inlander: "The book shines in its retelling of Florida history, with a crazy cast of characters and epic events, like the Seminole Wars, the deadly storm of 1928 and the building of a railroad all the way to Key West."
Winnipeg Free Press: "The book's appeal lies not in its destination but its journey. And Grunwald is a terrific guide. The Swamp is textbook good journalism— objective and definitive, yet dramatic in delivery and passionate in its judgments. . . . A beguiling read."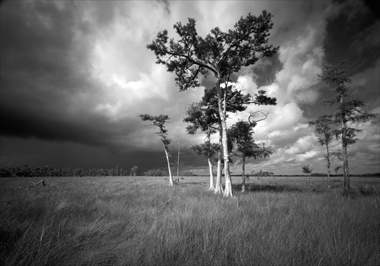 Milwaukee Journal-Sentinel: "Engaging, readable, and insightful. . . . Grunwald has written a fascinating story."
Speakeasy Magazine: "Award-winning journalist Michael Grunwald tells this tale of hubris and horror with just the right mix of awe and anger, fact and analysis, drama and edgy humor. . . Many aspects of the Everglades' story are even more relevant in the aftermath of the ferocious hurricanes of 2005, enhancing the importance of Grunwald's intense and involving portrait of the Everglades past and present, an essential volume in the morbidly fascinating case of humankind versus the rest of life."
Publishers Weekly, starred review: "Washington Post reporter Grunwald brings the zeal of his profession--and the skill that won him a Society of Environmental Journalists Award in 2003--to this enthralling story of ' the river of grass ' that starry-eyed social engineers and greedy developers have diverted, drained and exploited for more than a century. . . . Grunwald ' s emphasis on the role politics played in first despoiling and now reclaiming the Everglades gives this important book remarkable heft." --December 19, 2005
Kirkus, starred review. "A lively appreciation of the Everglades as an ecosystem worthy of care and protection. . .a learned entertainment. . .it's clear that much remains to be done to save the Everglades. This lucid history and call to arms is an essential companion to that work." --February 15, 2006
Booklist, starred review: "Grunwald strikes just the right balance of awe, ire, and analysis in his expert and animated chronicle of the history of the Everglades. The colorful, infuriating, and instructive story of the Everglades is a riveting tale of ambition versus ecological reality, politics versus science, and, on the upside, our gradual awakening to the true nature of nature." ––February 1, 2006
Florida Monthly: "The Swamp is a fascinating read for anyone interested in Florida's political, ecological, and developmental history, particularly regarding the recent national political elections."
Solares Hill (Key West, FL): "The great beating heart of this book, the thing that pulls you along from page to page, is the story of how the Everglades came to be what they are now. . . . His great skill is his ability to produce lucid, distilled, and often funny prose that is uncondescending, illuminating, and lively. . . . An amazingly compelling book." --March 17, 2006
"This is a wonderfully written, provocative and important book. It combines history and investigative journalism to explore not only the Everglades, but the larger tensions of a society's relationship with the environment. It's also a riveting story, the definitive account of south Florida's incredible journey from marshland to manmade megalopolis. There are many lessons here, and in the wake of Katrina it's time we learned them." --John Barry, author of Rising Tide and The Great Influenza
"In The Swamp, Michael Grunwald has produced a masterly narrative, a story of ambition and greed in the Everglades that is rich with character, entertainment and revelation. This is a quintessential chapter of the American history, and also an urgently important work of contemporary journalism." --Steve Coll, author of Ghost Wars
"Michael Grunwald is tough and clear-eyed and writes like a dream. Here, in The Swamp, he has found the perfect story—man's long struggle between destruction and salvation, played out in the Everglades of Florida. With its interwoven threads of history, science, politics, and biography, Grunwald's work has brought a beautiful, dying place to life as never before." --David Maraniss, author of They Marched Into Sunlight and When Pride Still Mattered
"Michael Grunwald digs deep and writes smart. The dying Everglades hasn't had a livelier or more compelling witness since Marjory Stoneman Douglas. The Swamp will sit cover to cover with her classic The Everglades: River of Grass on history's bookshelf." --John Rothchild, author of Up For Grabs
Photos by Clyde Butcher, all rights reserved.