Michael Grunwald is an award-winning senior correspondent for Time Magazine, based in Miami.

Mike grew up in Greenvale, N.Y., graduated from Harvard College in 1992, then worked as a local and national reporter for The Boston Globe before joining the Post in 1998. At the Post, he covered the Justice Department and Congress and served as New York City bureau chief before moving to an enterprise beat in 2000.
He first slogged into the Everglades while researching his first series, a yearlong investigation of the Army Corps of Engineers that won the George Polk Award for national reporting, the Worth Bingham Prize for investigative reporting and the Scripps-Howard award for environmental reporting. He returned to the swamp in 2002 for a series on the Everglades restoration project, which won the Society of Environmental Journalists award for in-depth reporting.
Mike then moved to South Beach, where he researched and wrote The Swamp, improved his backhand, and, most importantly, met a brilliant and beautiful attorney named Cristina Dominguez at a Sagamore Hotel party. Team Gringuez got married on December 2, 2006.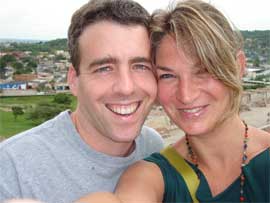 After a year in DC, Mike and Cristina are now back in Miami with their Boston terrier, Shamu, and his baby sister, Candy. Cristina has ditched the law and opened a Marimekko flagship store on Lincoln Road, selling beautiful fabrics, home interiors, and clothing. After a stint as the writer for the Washington Post's Outlook section, Mike covered national politics for the paper.

| | | |
| --- | --- | --- |
| | | |