ONE HALF OF THE SIMON & SCHUSTER PUBLICITY QUESTIONNAIRE
1) Author's full name: BRUCE BUSCHEL
2) Author's name as it should appear on the book: NORMAN MAILER
3) Title of Book; WALKING BROAD (LOOKING FOR THE HEART OF BROTHERLY LOVE)
4) Name of agent: FLIP BROPHY, LORD LITERISTIC INC.
5) Place and Date of birth: PHILADELPHIA, USA, 4-17-47
6) Please indicate the name(s) of your spouse and children if applicable: IF APPLICABLE TO WHAT? THEY HAD NOTHING TO DO WITH THIS. THEY ARE COMPLETELY INNOCENT AND WILLING TO JOIN AN AUTHOR'S PROTECTION PROGRAM.
7) Education: Include schools attended, dates of attendance, degrees received, alumni bulletin. GIRARD COLLEGE (HS DIPLOMA 1963) and TEMPLE UNIVERSITY (NO DEGREES, MANY SCARS)
8) Please list any special awards, degrees, honors, etc., which you have received: NONE
9) Business affiliations: Please include any Trade Shows that you or companies that you are affiliated with or attend: NONE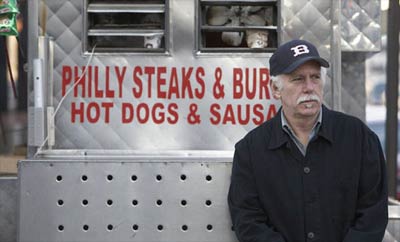 10) Please state your current and previous occupations: POST OFFICE MAIL HANDLER, JR. HIGH SCHOOL TEACHER, RADIO DJ, NEWSPAPER EDITOR, WAITER, GQ SENIOR WRITER, FREELANCE WRITER, VIDEO DIRECTOR/PRODUCER, OFF-BROADWAY PLAYWRIGHT

11) Do you have any connections in Canada?

ATTENDED AN EXPOS GAME. THEY LOST, 7-3. MY KID WENT TO McGILL. HATED IT.

12) Please list any hobbies or interests you have: RED WINE, PIANO, WHITE WINE. THEATER, BASEBALL, TENNIS, FILM, JAZZ, ROSE WINE.

13) List your previously published books, indicating whether they were fiction or nonfiction. CO-AUTHOR OF "THE WATERGATE FILE," Flash Books, 1972 (IT WAS THE FIRST BOOK ON THE TOPIC. LARGELY IGNORED BECAUSE IT WAS PARANOID AND TOTALLY ACCURATE.)

14) Do you belong to Costco's, Sam's or BJ's. NO. WHY? SHOULD I?

15) Please write a brief biographical sketch suitable for promotional use. Do not include any information you do not want released. BRUCE BUSCHEL LEFT PHILADELPHIA WITH TWO YOUNG SONS, TWO DOGS, AND ONE WIFE IN 1979 AND NEVER LOOKED BACK—UNTIL NOW. HE PRODUCED "GROVER WASHINGTON JR. IN CONCERT," DIRECTED A SERIES OF JAZZ FILMS CALLED "LIVE AT THE VILLAGE VANGUARD" AND CO-CREATED THE OFF-BROADWAY MUSICAL, "ELI'S COMIN.'"

16) Please list any clubs or organizations that you belong to. Which of these have annual conferences at which it would be important to publicize your book? NONE
17) List any magazines or newspapers to which you have contributed. Include title, subject, and date of important articles. Star publications if you are currently a contributor. NEW YORK TIMES SUNDAY MAGAZINE, PREMIERE, GQ, ROLLING STONE, SPORT, VILLAGE VOICE, MONEY, PHILADELPHIA INQUIRER, PHILADELPHIA MAGAZINE, ATLANTIC CITY.
18) Has any article or story of yours attracted particular attention? AN ARTICLE ABOUT LENNY DYKSTRA WON SEVERAL AWARDS; AND AN ARTICLE ABOUT WYNTON MARSALIS IN GQ.
19) For what audience is your book primarily written? MY WIFE. SHE SAID I WAS LAZY.
20) What related audiences (e.g. groups of professionals or students would be interested in purchasing your book? I DON'T KNOW.
21) For what college and university courses, at what levels (freshman, sophomore...graduate) might your book be adopted as a text, or recommended as supplementary reading? OF ALL THE QUESTIONS SO FAR, THIS IS THE DUMBEST.
22) Please write a paragraph or two on how you came to write this book -- including any interesting or newsworthy anecdotes about researching it, writing it, or getting it published. PHILADELPHIA MAGAZINE ASKED ME TO DREAM UP A STORY. THE ONLY THING I COULD THINK OF WAS WALKING BROAD STREET. I DON'T KNOW WHY. I NEVER WANTED TO DO IT BEFORE THAT MOMENT. THEY SAID YES AND I DID AND IT WAS A KICK TO WRITE ABOUT AND IT WAS RECEIVED WELL AND NOW IT IS A BOOK.
23) Please specify any distinctive or notable aspects of your book's subject matter, visual material, and/or organization. IMMIGRATION, BOXING, SLUMS, HOTELS, FUNERAL HOMES, BLOOD BANKS, HAROLD MELVIN & THE BLUENOTES, AND THE IDITEROD RACE IN ALASKA.
24) Do you have any additional ideas or thoughts regarding how your book might be sold or promoted? YOU THINK IT IS FOR PHILADELPHIANS. I THINK PHILADELPHIANS KNOW ENOUGH ABOUT PHILADELPHIA AND THIS IS FOR EVERYONE ELSE IN THE WORLD. MY TARGET AUDIENCE IS BIGGER THAN YOUR TARGET AUDIENCE.
25) Are there prizes or awards for which your book might be nominated? GOD ONLY KNOWS.
26) List other books on the same subject now on the market, or in preparation, with which your book will compete, or will appear, e.g. to booksellers, to compete. Give author, title, publisher and year of publication. I DOUBT THERE ARE ANY BOOKS IN ANY MARKET ABOUT PHILADELPHIA. THAT LEAVES IT WIDE OPEN FOR US!