Be Not Afraid, For You Have Sons in America
How a Brooklyn Roofer Helped Lure the U.S. into the Kosovo War

Synopsis
By Stacy Sullivan
St. Martin's Press
$27.95 U.S.
330 pages
ISBN # 0-312-28558-2
-----
Praise for Be Not Afraid :
"Snappily written with a keen eye for telling personal tics and crushing political ironies, Sullivan's book reveals that this crucial, underreported event of the late '90s was more multilateral than anyone imagined." — Publisher's Weekly
"Stacy Sullivan…has pulled off an improbable feat. She has written an irresistibly readable book about the grim war in Kosovo, a conflict obscure to many Americans, even during the 78 days in 1999 when the United States was pounding the place with bombs.... The narrative is so strong that you hardly notice that Sullivan's book is deeply serious, historically sophisticated and morally complex."
— The Washington Post
"With her remarkable tales of gun-running, intrigue, high politics, and murder, Sullivan has given us a work of contemporary history that reads more like a crime thriller. She has also offered a disturbing glimpse behind the scenes of one of the only wars ever waged on humanitarian grounds." — Samantha Power, author of the Pulitzer Prize-winning A Problem From Hell
"Stacy Sullivan chronicles the awful machinery of war, the high idealism and base cynicism, the brutal politics and utopian visions, which propel young men into battlefields and often leaves them broken and scarred. She captures, through her dogged reporting, the dark and frightening labyrinth of war." — Chris Hedges, author of War Is A Force That Gives Us Meaning

Author Events
"60 Minutes" will feature a segment on Be Not Afraid... on Sunday, March 20, 2005.

A documentary based on the book, entitled "The Brooklyn Connection," will air on PBS on July 19, 2005.

Read Stacy Sullivan's article in New York magazine.

Hear her on public radio's "The World."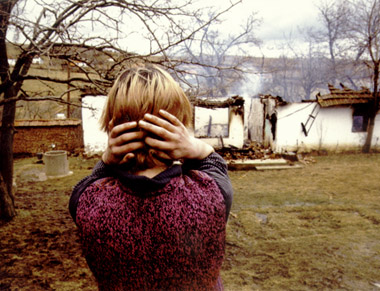 The aftermath of a Serb attack in Kosovo
Ron Haviv of the VII Photo Agency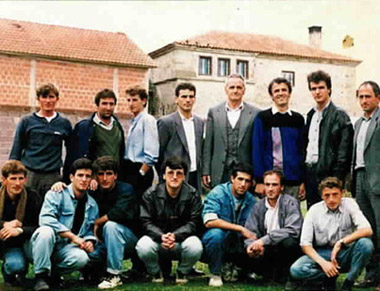 The men of the Krasniqi family. (Florin, standing, second from right)
Family photo courtesy Florin Krasniqi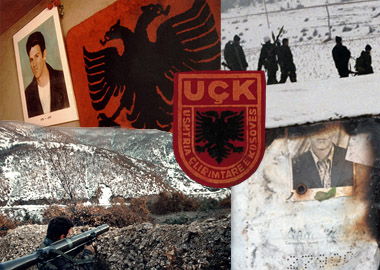 Images from the KLA including a portrait of the late Adrian Krasniqi (top left) Ron Haviv, VII Photo Agency.
A Martyr Is Born

As soon as Florin heard the news, he got on a plane. During his layover in Zurich, he went to the airport bar, which had a television broadcasting EuroNews. As he sat at the bar, the same images of Adrian that had been shown on Serbian television flashed across the screen.

"I can't begin to explain to you how awful it was. I couldn't walk. I couldn't stand up. I couldn't get up from the chair. I don't know how I got on the plane. I was so angry that I had no fear. Someone could have stabbed me or shot me and I wouldn't have felt it. It was the weakest moment of my life," Florin said.

What got to Florin was not only that Adrian was dead. It was that Adrian died alone and that the Serbs had tampered with his body afterward. "If his body had been taken by Mergim or his friends, it would have been different," Florin said. "I felt guilty. I always wanted to be there for him and I wasn't. I felt I should have taught him to be patient instead of encouraging him. I didn't and I let him die alone."

Florin knew at that moment that he would make the Kosovo Liberation Army his top priority. He had to avenge Adrian's death, and the best way to do that was to help build the guerrilla army his cousin had helped start.

Read more