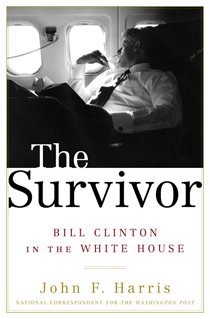 The Survivor
Bill Clinton in the White House
By John F. Harris
Random House
A New York Times 100 Notable Books of 2005
A Washington Post Book World Best Books of the Year
"A sober, fair-minded and highly readable account of Mr. Clinton's tenure in the White House, it is a welcome antidote to both Mr. Clinton's sloppy and self-indulgent memoir (My Life) and the egregious, rumor-mongering hit job Bill Clinton: An American Journey." ----Michiko Kakatani, The New York Times
"John Harris has written a fascinating account of the downs and ups of the Clinton presidency. The Survivor is fair-minded, well informed, absorbing in narration, mature in judgment." --Arthur Schlesinger, Jr.
"John F. Harris is the most lucid writer in American political journalism today." --David Maraniss, author of First In His Class: A Biography of Bill Clinton
"A personal portrait both fresh and full. Clinton emerges as brilliant, moody, dogged, resilient, intermittently self-pitying and profane. New anecdotes capture him as candidly as an unexpected snapshot." --Ronald Brownstein, Los Angeles Times
"If you're like me, you'll put the book down with the sense that you have read a modern reworking of a tragedy with a special Clintonian twist: The hero's flaws do not bring him down … but instead help put the party he led in its most perilous state in decades." --Jeff Greenfield, Washington Monthly
"Harris, in short, has written a responsible, honest, tough, and--best of all--considered assessment of Clinton's presidency that will endear him to neither Clinton's enthusiastic supporters nor his vitriolic detractors." --Ben Schwarz, The Atlantic Monthly
[an excerpt]

Trapped

Clinton and his lawyers spent six hours in rehearsal on the Friday night before the Paula Jones deposition, January 16, then Clinton insisted that they practice another ninety minutes the next morning. He had decided he would lie, under oath, rather than answer embarrassing questions about his sexual history.

He had been warned, bluntly, about the dangers of this. On Friday night, Bennett had told Clinton he found the president's answers about his relationship with Marilyn Jo Jenkins, the Arkansas utility executive who had paid 5 a.m. visits to the governor's mansion after the 1992 election, "frankly unbelievable." If Clinton lied, "The crazies will come after you. They will try to impeach you if you lie."

"I hear you," Clinton said.